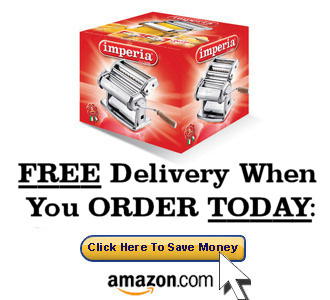 Imperia Machine Information
What could be better than the feeling of serving up your very own, delicious homemade pasta prepared perfectly with the Italian Imperia Machine to help you?
You'll be creating tons of scrumptious, yummy pasta from the comfort of your own kitchen but with the taste of a fine Italian restaurant all thanks to the Imperia Pasta Machine.
You're getting it at the BEST price with FREE delivery and the best part is - you don't even have to worry about cleaning it as one quick wipe is all it takes!
Making your own homemade pasta without the Imperia machine doesn't even bear thinking about, don't mistreat your kitchen - give it the ultimate pasta machine that it deserves and your tastebuds will thank you.
With the imperia pasta machine you get to choose exactly how thick or how thin you want the pasta and you just turn the magic pasta handle and the Imperia machine does the rest. Lots and lots of lovely, restaurant-grade pasta comes streaming out from the cutter in no time. It really couldn't be easier.
You just take your Imperia pasta machine out of the box, affix the table clamp, attach the cutter handle and you're good to go. Mamma mia! I smell delicious pasta cooking in your kitchen.
You can be the envy of your friends, your neighbours and even your local Italian restaurant as you create the perfect pasta that you've come to expect from Italian producers of the Imperia machine.
You're getting a complete pasta maker solution here that will turn restauranteurs' eyes green with envy as you create Michelin-star quality pasta from your very own kitchen without having to leave home. Delicious, nutritious and head-turning pasta can finally be yours..

Your Imperia Machine
You'll be rustling up the perfect pasta in minutes!

You don't have to worry about mess - one-swipe clean does the trick!

You can finally create true Italian-style pasta in your own kitchen without the mess, hassle or cost!

You'll be making perfect pasta every time with the easy to follow, step by step intstructions!
The Imperia Pasta Machine is the ULTIMATE in home-made pasta making - order yours today and get free delivery as well as the admiration of your friends, family and loved ones!

---